If there's one thing to expect from Brexit, it's the unexpected.
The UK was supposed to leave the EU on March 29, 2019. It did not happen.
As of now, the new deadline is April 12. But no one knows for sure what the terms of the separation will be.
Will it be the deal Theresa May's government has negotiated with the EU?
Or will there be an extension of the negotiations beyond the departure date?
Will the UK "crash out" of the World Trade Organization (WTO) rules?
Or will Brexit be postponed indefinitely?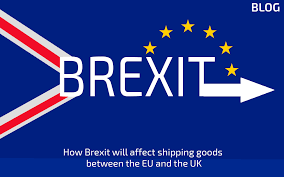 The shipping sector will be affected by ALL these possibilities with a certain outcome,
costs will go up
.
At Interlog, we help shippers keep costs visible by auditing invoices and paperwork, capturing and reporting data.
We have the expertise, systems and trained staff to help you cope with extra workloads, as well as transportation planning & execution.
Let's look at some of the possible outcomes of Brexit in more detail.
You will also find some 
useful links
 to other sources of information on this article.
Withdrawal Agreement aka "Theresa May's Deal"
Under the Withdrawal Agreement, the UK will leave the European Union on April 12, 2019. It will be given Third Country status by the EU.
This means that goods crossing the UK / EU border will be regarded as imports or exports not in free circulation.
They will be subject to customs declarations and inspections to ensure regulatory compliance and be assessed for duties and taxes.
There will, however, be a 2-year transition period until December 31, 2020 during which the UK will remain in a
Customs Union
with the EU.
Operationally things will remain largely under the same roof.
The transition allows time for the EU and the UK to negotiate a 
free trade agreement
 and gives all parties a further two years to prepare for the changes.
At Interlog we are in the process of doing business, they need to audit, they need information.
But so far, the UK parliament has rejected the offer of an alternative deal.
If the EU grants an extension, or Brexit is postponed, goods will continue to move forward.
No Deal  
Under
No Deal
a hard border will come into force on April 12 or at the end of a fruitless extension period.
There will be no transition period.
WTO rules and tariffs will be the default.
Shippers will have to register and prepare customs declarations and other paperwork to comply with regulations;
Carriers will need to submit customs checks and cargo inspections.
Shippers will have to pay new tariffs and provide new certification on some manufactured goods, livestock, and foodstuffs.
All this red tape will-have a knock-on effect of Creating more work, more items to check, more
delays
and MOST importantly,
Higher shipping costs
.
Dealing with the costs of Brexit
Interlog can help shippers overcome the negative effects of Brexit in the following ways:
Our

Freight Invoice Audit & Payment

service makes costs visible, giving shippers better control of their transportation spend.

Our audit solutions Ensure our customers only pay the exact amount quoted, while

our systems and outsourcing teams

relieve em of the time-consuming task of checking, allocating and reporting costs
With Interlog's data, shippers can compare their transportation costs before and after Brexit, to show the impact it will have.
This is one of the most important tools of the UK, and it is helping companies to take care of roads, carriers and loads for future deliveries.
Our

independent 4PL

, Interlog Logistic, can source capacity to handle extra volumes or unexpected contingencies caused by delays.

Our Control Tower is staffed by experts who can analyze your transportation requirements, make recommendations to streamline operations and arrange the most cost-effective ways to keep your shipments moving.
As a young, dynamic, global company, we have the resources to be fast, nimble and reactive to our customers' needs far beyond Brexit.
Do you want to find out more about Interlog's outsourcing and software solutions?
Or click on the following link: 
https://www.interloggroup.com/contact/
to find out how we can help you keep a grip on your transportation costs and operations through the upheavals caused by Brexit.
Useful Links
The UK's Road Haulage Association (RHA) publishes a list of up-to-date items, checklists, policy updates:
https://www.rha.uk.net/policy-campaigning/brexit-and-the-uk-haulage-industry
Other UK transport trade associations:
BIFA- Freight Forwarders –
Home Page
The Freight Transport Association –
https://fta.co.uk/international-trade/brexit
European Commission information:
Brexit Preparedness –
https://ec.europa.eu/info/brexit/brexit-preparedness_en