About Freight Payment & Audit, did you know that:
– 25% of freight invoices contain errors
– These errors can lead to shippers being overcharged 3-5% on average
– Visibility to your freight spend can return savings of 15-20% through better informed carrier selection?
If you didn't (or even if you did) read on because there's more on the benefits of using a global outsourcing specialist to audit your freight bills.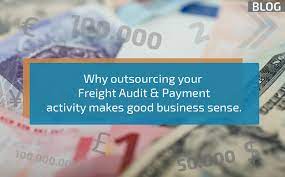 Preventing overcharges
Freight invoices are complicated and prone to errors. Incorrect application of rates, adding un-approved accessorial charges for waiting time, fuel, extra services, incorrect shipper references, and simple data entry mistakes, etc… all add up to a lot of money being wasted in overcharges. Equally, if the valuable data on invoices is incorrect, it makes the task of managing freight spend much, much harder.
 Using an independent Freight Audit and Payment provider like Interlog Services to check, correct, book and pay your freight bills prevents errors and unpleasant surprises. It brings discipline to setting up carrier & 3PL agreements, automation to catch errors and a resource to correct invoice exceptions. 
Improving Productivity
The complexity and amount of information on a freight invoice make it along, labour-intensive task to check them manually. Then there's the need to allocate transport and Supply Chain expenses accurately. Often Supply Chain managers find themselves having to help Accounts Payable departments by doing this work themselves, taking away valuable time from managing freight operations.
 Freight Audit & Payment providers like Interlog has developed systems to automate the mammoth task of auditing freight bills. We've been in the business for 20 years, so our auditors know exactly what to look for and how to handle exceptions on your behalf. What's more, we are a global company with operations across 4 continents. So different customs, cultures, practices and languages are part of our DNA. Outsourcing auditing your freight spend eliminates the need for internal resources to do this work, freeing up your back office to handle other tasks, and your teams to get on with their job of running a lean, strong, efficient Supply Chain. Ludovic de Rancourt Director of operations of Interlog Services states,  "Our customers view Interlog as an extension of their internal teams. So we work hard to understand their needs and corporate culture and be the service partner that provides accuracy, flexibility, great customer service, and excellent data". 
Visibility Gained, Compliance Achieved 
When it comes to data we all know the old adage "Garbage in, garbage out". And there's no better example of wasted money, time and opportunity than if you have to use inaccurate, incorrect data to manage your freight spend. 
At Interlog, we combine an obsession for accurate data with deep expertise in systems and electronic solutions for transportation. All the data we capture from your freight invoices are made available to you via our reporting and Business Intelligence tools. This allows you to take informed decisions on tactical choices of carriers, modes of transport and routing, as well as more strategic decisions like optimal siting of Distribution Centres, pricing, and delivery options.  
Outsourcing your freight invoices to be checked by an independent auditor like Interlog also strengthens compliance with international and corporate policies to prevent fraud, money-laundering, and infringing sanctions.
Choosing the right Freight Audit and Payment Outsourcing Partner
Freight Audit and Payment used to be only about the accuracy of invoices. Now it has developed into an invaluable source of data analysis, operational efficiency, financial insights and cost savings. So it's important to choose the right provider for your company's needs. 
At Interlog, we are flexible and not limited by your type of business. Whatever sector you are from, or wherever you are situated in the world,  we can tailor our solutions and personalize our service to your needs, rather than a "one size fits all" approach.  
So get in contact with us and take the first step to:
saving money

cutting out fixed costs and time-consuming tasks for your employees

controlling and managing your freight spend

having accurate data to base your business decisions on, and

getting a handsome return.