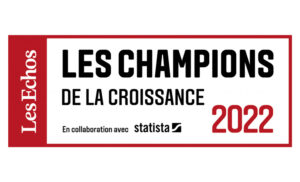 We are very pleased to announce that Interlog is part of the TOP 500 Growth Champions 2022. The newspaper Les Echos, in collaboration with Statista, has awarded us the 2nd position in Centre-Val de Loire and the 121st position in the general ranking.
The aim of this ranking is to highlight companies with exceptional growth performance and that actively contribute to French economic growth, notably through job creation. It is thanks to our expertise and our innovations for over 20 years that we have obtained this award.
Being a part of the Growth Champions 2022 is an honor for us since it reflects the impact of our daily efforts. We are honored to represent the transportation sector and to be recognized with this ranking, which testifies to our expertise in Freight Spend Management. We continue to make transportation a growth vector to our customers around the world!