Interlog will now become the exclusive partner for the delivery of Freigh Tender solution to France and Portugal.
Freightender and Interlog are both active in digital solutions for the logistics market and the Freightender offering complements the Freight Audit and 4PL solution of Interlog.
Jean-Marie Mascarenhas comments: "Pieter is well known to the industry. I personally learnt to recognize over the years his professionalism and his experience which have clearly been key to the user-friendly design of the Freightender solution. My team is delighted with this partnership ; The Freightender tool will make us save time and improve our efficiency to manage the transportation tenders of our customers."
Pieter Kinds: "The French logistics market is on a digitization journey like many other countries and France being an economic giant and a strategic country for logistics, we needed a more hands-on approach to support our current business and grow new business. Interlog is uniquely positioned as a long-term logistics tech provider to bring our solutions to the French market."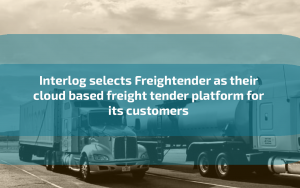 About Freightender
Based in Spain, Freightender is a cloud-based procurement platform that offers a platform to shippers to launch and manage spot bids, RFQ's, benchmarks and rate requests for all modes. It supports many large and midsize companies in Europe and globally with their logistics procurement needs.
About Interlog services
Interlog is a French based company offering Freight Spend Management services on a global base, that includes Freight Audit and Payment, 4PL services, Control tower, VMI and Shared VMI services and solutions… . The 260-strong workforce of Interlog is based in Orleans (France), Ourém (Portugal), Chennai and Mangalore (India), Shanghai (China), Ann Arbor (USA) and Mexico City (Mexico).
For more information:
Jean-Marie Mascarenhas