Mg2+ is a collaborative project that brings together 4 competing manufacturers, Carambar&Co, Cémoi, Ferrero and Mondelez, and 2 logistic providers, Interlog Logistic and FM logistic, around the common objective of reducing the number of trucks on the roads.
The innovative process of EDI pooling mutualize trucks for the retailers and other distribution channels. This process is well suited for the retail companies that do not work in shared VMI.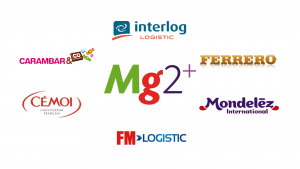 This collaboration is made possible thanks to the management of the EDI pooling process by Interlog Logistic control tower. Interlog, a neutral and independent party, acts as a conductor between the different players in the pool. in order to obtain a fast and efficient process, the service also integrates customized KPI to monitor the activity.