Reducing your company's carbon footprint in the supply chain is greatly positive for the environment and will save money in the long run. 
Transform Your Transportation Operations to an Eco-Friendly Venture
Consumers are now interested in buying "green" products, but many do not know the manufacturing process for them. Carbon emissions come from just about every side of the economy and it is complex to find solutions. Dynamic supply chain networks transfer products from producers to customers, but here is where Interlog Logistics can help companies make eco-friendly transportation decisions. Interlog Group is a big supporter of climate-friendly policies that benefit our planet. We are committed to implementing strategies to reduce our clients' carbon footprint in their supply chain. There is now a growing movement towards aligning businesses with those of the Paris Agreement by going "carbon-neutral". Many industries have restricted the potential for direct emission reduction due to the complexity and the association of a significant portion of their emissions with their
supply chain
.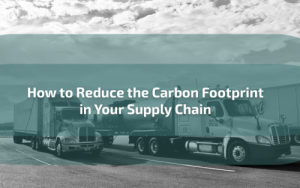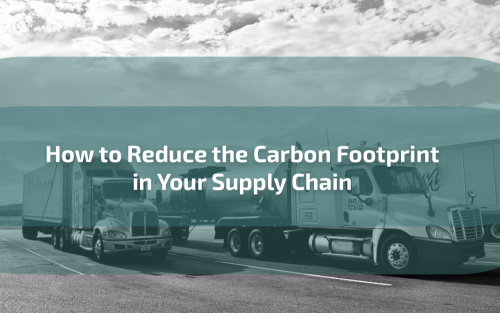 Reducing Your Company's Carbon Footprint
The goal for many companies is to reduce greenhouse gas emissions which reheat the atmosphere and cause climate change; this helps them contribute to a healthier planet. These targets lead to smarter business strategies that we have been implementing for the past few years with some of our clients. One way this is done, is by organizing and grouping shipments by delivery points. This has been an ambitious project for Interlog—we have done this with four clients who were directly competitive, and because of this strategy, they are saving money and decreasing their greenhouse emissions by large margins. They have set aside the 'direct competitor' title and have focused on understanding the risk of carbon emissions and are starting to see the impact.
Benefits of Having a Climate-Friendly Policy
Having a climate-friendly policy will reflect on department sales since consumers want to purchase products from companies that benefit the Earth. Not only can businesses expect higher revenues for their eco-friendly decisions, but they will also be viewed as an attractive employer to candidates because people want to be part of a company that helps the environment. 
Choosing the Right Logistics Provider Will Help Companies With:
Reducing their carbon footprint.

Save money.

Managing their logistic operations.

Pooling.

Giving efficient and personalized transport solutions.

Data protection.

Having a sustainable business.
As a young, dynamic, global company, Interlog Group has the resources to be efficient, innovative, and responsive to the transportation needs of our customers. 
Do you want to find out more about Interlog's outsourcing and software solutions?
Contact us today!
Hiyaam Yas
Freight Spend Manager
Telephone. +1 734 668 2531 
English speaking
Or click the following link:  
https://www.interloggroup.com/en/contact/
 to find out how we can help you in reducing carbon footprint in the supply chain!