January is a month to plan ahead since the supply chain slows down due to Chinese New Year and other events. January 2020, however, was a bit different due to the Coronavirus outbreak; the World Health Organization (WHO) declared Covid-19 a global public emergency on January 30, 2020 and to this date, there are more than 100,000 confirmed cases. Pandemics aren't the typical disruption a business expects, but now, a clear disruption is seen in the supply chain process. Since all started in Wuhan, China's many sites have been shut down as a security measure to help stop this epidemic from spreading, which is starting to be perceived as a domino effect. This is because manufacturers are unable to get raw materials or special pieces made in affected areas, causing a visible disruption, and as a result, incomplete products.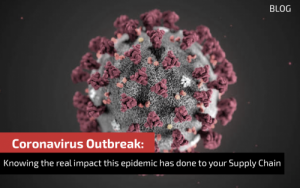 Even though many Chinese manufacturers have now reopened, there is still a substantial effect on ocean and air transport, with significant congestion at Chinese ports and a decrease in container capacity. We can see container volumes falling in ports as the virus spreads in more than 80 countries. Many exporters are definitely seeing the effects of the virus as production lines have been partially shut down. This disruption has caused thousands of empty vessels to discontinue their route; companies are unsure whether to put in a balance blank sailing or to cancel them. Nor do we know if those blank sails will reach China to reposition. Their margins depend on how long this epidemic lasts. 
To know exactly the impact this can have on a company, Freight Spend Management, and Freight Audit & Payment is an excellent way to measure the effects of this crisis. This is to have a better analysis of this impact and have a successful response whether or not to carry this cost or pass it along to clients. The data our services provide gives a clear view of where your company is standing and where it needs to be. The data presented by Freight Spend Management will help make better decisions for strategic implementation and have visibility for future savings. At Interlog we have always been convinced that data visibility is a key component of our service. 
Our services measure key risk indicators that give a better view to get prepared for further changes in the company. Knowing what to do with this data is crucial and as our client, you will have access to our BI tool available 24/7 – 365 days a year where you can check all your company transportation data in interactive graphs: 
"FSM Dashboards" for operational Freight Audit KPIs

"Red Flag" to monitor the invoices in Red Flag and visualize audit issues historical data

"Transport Analysis" for all the transportation dashboards, geoanalytics and costs analysis.
Find out exactly, how we can analyze the impact the covid-19 crisis has on your supply chain. 
You can also click on the following link: https://www.interloggroup.com/en/our-services/ to find out more about all the solutions we have for your business to measure these effects.